RON DUPRATT FORD IS AN ELEVEN-TIME FORD
CORPORATE PRESIDENT'S AWARD WINNER!
Whether you're cruising in a new Ford Fusion, Escape, Focus, F-150 or SuperDuty or a used Ford vehicle, we will having it running like it's fresh off the assembly line. Our auto repair and maintenance center, located in Dixon, California, is on hand for all of your service needs. From routine to the unanticipated, we have you covered.
In need of an oil change? Tire rotation? Check engine light on? Don't waste another minute and fill out our contact form. Ron DuPratt Ford will get in touch to confirm an appointment, and before you know it, you'll be back on the road in a pristine Ford vehicle!
Ford Auto Repair and Service in Dixon CA | Ron DuPratt Ford
If you're looking for quality repair and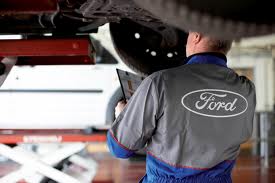 maintenance service for your car, truck or SUV -- anywhere near Dixon CA -- come to Ron DuPratt Ford for the highest quality service from industry trained and Ford-certified professionals. At our Dixon CA service facility we provide you with the repairs necessary to quickly fix the problem --.and maintenance performed by factory trained technicians. If it is an oil change you need or a new transmission, the service team at Ron DuPratt Ford will perform the service for you...and do it right the first time.

We also service other makes and models, so even if your vehicle isn't a Ford, you can take advantage of our Ron DuPratt commitment to delivering excellent service! So when you need vehicle repair of maintenance, remember: Ron DuPratt Ford's Service Center in Dixon CA is here to serve drivers from Sacramento, Fairfield CA, Davis, Vacaville and throughout the Valley!

And, don't forget that Ron DuPratt Ford is one of the premiere commercial vehicle service departments in the valley! We can take care of your large super-duty trucks and vans, your fleet vehicles and you'll see how we earned such a great reputation for our commercial service plans and work.