Want to make a good impression? Or are you considering selling your car or truck? Ron DuPratt Ford provides excellent automotive detailing services for you at our Dixon, CA location, near Sacramento, Fairfield and Vacaville.

Need a quick but thorough detailing service? Choose our Basic Detail Service. Your vehicle will look and feel clean and professional...great for driving clients and important guests.

If the look of your vehicle is no longer acceptable and you need to really clean it top to bottom, we suggest our Premium Detail Service. Your carpets and seats will be thoroughly shampooed, removing months of dirt and spills. The interior and exterior of your vehicle will 'SHINE'... even the engine compartment.

So don't put it off. Get your vehicle detailed today! You'll be amazed at how much better your car or truck can look.


Auto Detailing Services

Basic Detail Service: $75
Exterior - Wash
Interior - Clean & Vacuum
Premium Detail Service: Starts at $150
Exterior - Wash, Polish & Final Wax
Interior - Clean & Vacuum
Shampoo Seats and Carpet
Clean & Dress Engine Compartment
Vacuum/Clean Trunk Space
Clean Door Jambs
Dress All Interior Surfaces.


HEADLIGHT RESTORATION SERVICE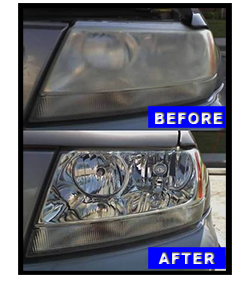 Ron DuPratt Ford also provides Headlight Restoration Service for our customers. This valuable service not only can save you money because you can delay purchasing new headlights, but it can save you from potential danger. Removing the haze created on your headlights from flying dirt and other consequences of normal driving can substantially improve your ability to see at night. The light from your headlights can be far brighter than you've experienced in a long time after the Headlight Restoration process.
So we suggest you check your headlights next time before you get in your vehicle to drive. Cloudy headlights are easy to overlook, but can be the difference between seeing the roadside hazard, or being stuck in it.