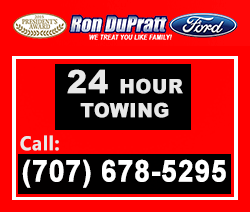 If you've ever experienced something like this, you know how much relief a dependable towing service can provide. And being stranded makes it even more important to reach out to a service with a name you can trust.
Ron DuPratt Ford has been a respected member of the Dixon and Sacramento area for 60 years. We're also a current and eleven-time Ford President's Award winner for sales and service. So when you need a reliable and safe tow, you know you can count on us!
WE'RE HERE TO HELP YOU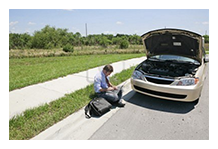 Ron DuPratt Ford provides quick, courteous and professional vehicle towing services in Dixon and the surrounding Sacramento area. Simply call our Ron DuPratt Towing Service number on this page whenever you need a vehicle towed for:
Roadside assistance when you
              -  Have a dead battery
              -  Run out of gas
              -  Can't start your vehicle
              -  Have a flat tire
              -  Need to get into a locked vehicle
Help moving your vehicle after an accident
Transporting a non-running vehicle from your home or business for service or body work

HOURS OF OPERATION

We are always available to assist you with your towing needs -

               24 HOURS A DAY, 7 DAYS A WEEK

Call us and we'll send a tow/recovery technician to help you -- no matter where you are, within a 30-minute radius of Dixon, California. First, your technicians will ensure that you and your vehicle can be kept safe.  Then they'll review the situation with you and provide the assistance you requested. If the vehicle needs to be towed from its present location, they will make sure your car, truck, van or SUV is secure and then tow it to your desired destination, within 35 miles.