If you're looking for a powerful truck with advanced features, Ford provides some great choices. Both the 2020 Ford F-150 and the 2020 Super Duty® models offer incredible power and capabilities you're sure to love. While the new Ford F-150 boasts many of the same features for a much lower price, 2020 F-250 trucks offer an increase in power fit for the worksite. At our Ford dealership near Sacramento, CA, we can help you compare the 2020 F-150 vs. the 2020 F-250, so you can make an informed decision as to the Ford truck that's right for you. Be sure to browse our 2020 Ford F-150 lease specials online to claim an even better value!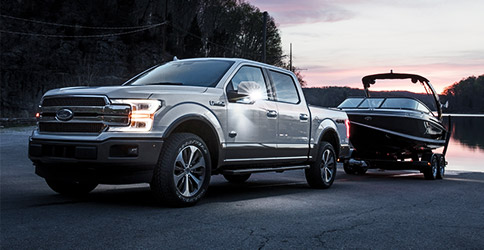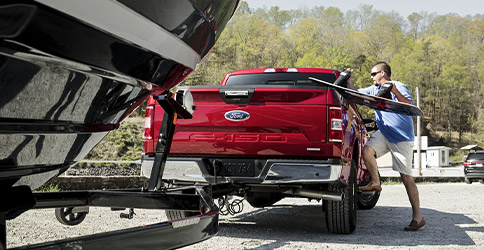 2020 Ford F-150 Price vs. 2020 Ford F-250 Price
To have first-class power at your disposal, you don't need to break the bank. The 2020 Ford F-150 starting price comes in far lower than the starting MSRP of the 2020 F-250, so you can get in the driver's seat for less. And as you'll discover below, the new F-150 packs plenty to love despite costing less than a new Ford F-250 Super Duty®, so you can enjoy many of the same capabilities and features when you buy or lease a 2020 F-150 near Sacramento, CA.
| Features | 2020 Ford F-150 | 2020 Ford F-250 |
| --- | --- | --- |
| Starting MSRP | $28,745 | $34,035 |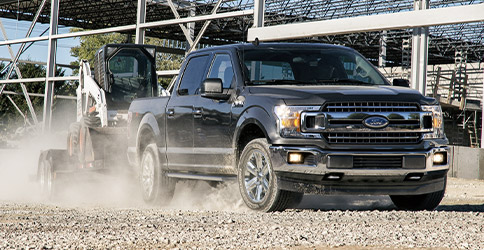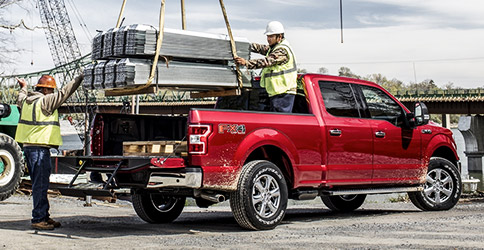 2020 Ford F-150 Specs vs. 2020 Ford F-250 Specs
The 2020 Ford F-250 specs are certainly impressive, but the F-150 truck can keep up, if not outdo, the Super Duty® in various ways. The 2020 F-150 max towing capacity is 13,200 pounds, and while that is less than the 24,200-pound max towing capacity of the F-250, it's still plenty powerful. To visualize it: you can still easily haul a horse trailer and horse, as most combinations don't exceed 10,000 pounds. Additionally, both speedboats and sailboats usually weigh in between 8,000 and 9,000 pounds, so those can be easily towed by the new F-150 pickup as well when properly equipped. Do you like spending time in the great outdoors? Campers typically weigh around 5,000 pounds, so the F-150 can capably tow whatever you need. And to top it off, you can opt for the available 3.0-liter Power Stroke® engine in your 2020 Ford F-150 and earn up to 29 highway mpg, offering greater fuel efficiency than the Ford F-250.
| Features | 2020 Ford F-150 | 2020 Ford F-250 |
| --- | --- | --- |
| Max Towing Capacity (lbs.) | 13,200 | 24,200 |
| Max Payload (lbs.) | 3,270 | 7,850 |
| Max Highway MPG | 29 | N/A |
| Max Horsepower | 290 | 385 |
| Max Torque | 3.3-liter V6 | 6.2-liter V8 |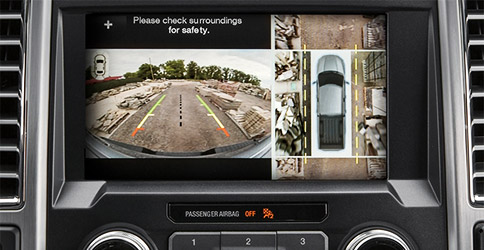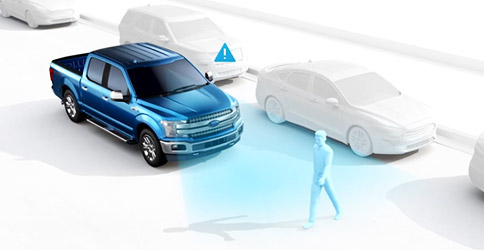 2020 Ford F-150 vs. 2020 Ford F-250 Safety Features
When it comes to staying safe and secure while on the move, the 2020 F-150 is a great option. The new Ford F-150 safety features include standard Pre-Collision Assist with Automatic Emergency Braking, so you can stay aware and in control as you travel to the next jobsite. Meanwhile, this feature is only available on the 2020 F-250, meaning you'd have to upgrade trims. Plus, 360-degree cameras are optional technologies on both Ford trucks. That means you can pay a far lower price and have access to similar technologies that the Super Duty® truck lineup offers.
| Features | 2020 Ford F-150 | 2020 Ford F-250 |
| --- | --- | --- |
| Pre-Collision Assist with Automatic Emergency Braking | Standard | Available |
| 360-Degree Camera | Available | Available |