Modern life depends so much on our vehicles, we often take them very much for granted. But taking your tire maintenance for granted is not only unwise, it can be extremely dangerous. Watch the videos on this page to learn more about tire maintenance. And remember, there are only four patches of rubber controlling several hundreds of pounds of vehicle...and you or your family...while you travel at freeway speeds. Take the time to make sure they are always in top condition..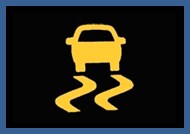 YOUR TRACTION CONTROL WARNING LIGHT
If you see this warning light up on your dashboard, it may mean you have a slight tire pressure problem or it could mean you have a serious problem with the traction control of your vehicle. Don't take unnecessary risks. Call us right away at (877) 467-5029 when you see this light and we'll check it out for you.
Due to possible diminished control if traction control system is not functioning correctly, we strongly advise that you use extra caution when driving if this warning light displays and recommend bringing your vehicle into our Service Department for inspection as soon as possible
Looking for Tire Specials? Click Here!